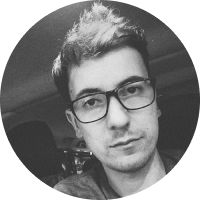 Hi, I'm Łukasz Skornóg
👋
I help companies
define
,
design
,
develop
and
launch
delightful products on the internet.
I'm Lukas, product designer (UX & UI) & creative problem-solver with 7+ years of experience in insurtech & finance world living in south Poland.
I specialize in interface design for mobile and web-based applications, design systems and UX strategy. I enjoy turning complex problems into simple, intuitive, human-centered solutions through excellent design and user experience.
Currently – I design and lead UX team at
– poland's No. 1 insurance comparison site. Our mission is to simplify buying insurance online and become a one-stop shop for all your insurance related needs.
You can find some of my latest work on
This site is an active "work in progress" – case studies, new projects and more stuff is coming soon.
After hours – I am an avid action sports photographer, I enjoy traveling, deep powder skiing and a good, mind-bending show.
Check it out here –
I am available for full-time roles and freelance projects.
Are you ready to make Your logo bigger? 😎
You can get in touch with me via
or
Designed in my head, coded by myself & approved by my cat!
© 2022/23 Łukasz Skornóg. All Rights Reserved.